Looking to Sell Gold Coins in NYC?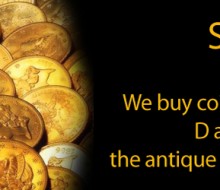 We buy coins right here at D and G Buyers Inc – the antique coins specialists!
That's right guys. Only here at D&G Buyers, Inc. can you get the very best prices for your antique coins! Our prices are constantly checked against our competitors on a daily basis, and we continue to strive towards taking every measure available to us to make sure that you get the very best prices for your old coins.
We have one overriding aim, which is always at the forefront of our minds here at the D&G Buyers, Inc. store. And that aim is to make your selling experience as simple and as straight forward as we possibly can. That means that we are always checking the competitiveness of our prices, so that you don't have to. In fact, over the years we have lead the way in coin buying throughout New York City, and have become well renowned for all of our competitive and transparent buy back prices.
Sell gold coins NYC the easy way
But we won't stop there. You see, as we have already said above, we want to make your selling experience as easy as possible. After all, it should not be a challenge for you to exchange your old coins for some much needed cash! That is why our rapid turnaround is so useful for busy shoppers in New York. All you need to do is bring in your items and take advantage of our free, no strings attached valuation service. Only after receiving your free valuation are you then given the choice to sell gold coins NYC. We understand that some coins have sentimental value attached to them, and that putting a price figure on that value is virtually impossible. But if you are in need of some extra cash, then selling your old coins can be a great way to bring in some much needed revenue. Here at B&G Buyers, Inc. we won't push you into making a decision. That choice is yours to make, and only you can make it. It is not for us to get involved in that bit of the sales process. So after you have received your free valuation from our team of coin experts, you are then free to go away and consider your options before you make the final decision on whether or not to go ahead with the sale.
We buy coins from all kinds of folks and everyone here in New York, so whatever you have to sell, you will always be made feeling welcome here at D&G Buyers, Inc.! And once you have decided that you would like to sell your antique coins to us, we will make sure that you walk out of the D&G Buyers, Inc. store with a smile on your face and cash in your pocket.
Our cash in hand sales service means that you can have your funds instantly available to you to go off and spend just as you wish. Be that on a holiday, or just to help out in the paying of the every day bills which soon begin to mount up. Whatever you may want to spend your new found cash on is completely up to you. Over the years we have heard all kinds of reasons for why people need to get their hands on some quick cash. From the sensible to the downright crazy!
So swop in your old currency for some nice shiny new currency with D&G Buyers, Inc. today!