Wondering Where To Sell Antique Jewelry in NYC?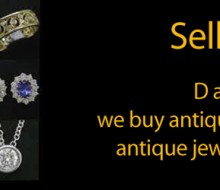 Here at D&G Buyers, Inc., we buy antique furniture and antique jewelry New York.
The antiques industry in New York City has seen phenomenal growth over the recent years, and the demand for antique furniture among the interior design scene has virtually exploded overnight. This increase in demand for old antique furniture and other pieces, has given rise to a new wave of people coming to D&G Buyers, Inc. with their old and unwanted antiques. We buy antique furniture and decorational items from all over the world. So whatever you have to sell, you will always know that you can rely on us for the best buy back prices.
It is our combination of expert antiques dealers that makes D&G Buyers, Inc. the answer to so many people's questions of where to sell antique jewelry NYC. Our highly trained and experienced antiques experts will be able to accurately valuate your items within minutes of seeing them. Getting a quick valuation in this way means that you can be in and out of the store within a fraction of the time you may expect for it to take. We understand that people these days are a busy bunch, and simply don't have the time to wait around while teams of expert dealers carefully inspect each and every aspect of the items that they have for sale. D&G Buyers, Inc. are here to offer you an alternative. Think of us as the New York antiques buyers who are able to offer you quick valuations, and send you back on your way with a pocket full of cash in no time. Oh, and here is the best bit of it all. We haven't told you about this yet, but our valuation service is actually completely free! Yep, you did read that right, so there is no need to rub your eyes or do a double take at your computer screen. This means that if you have ever wondered exactly how much money your antiques are worth, then you have a great way of finding out for sure! All you need to do is simply bring them down to D&G Buyers, Inc., and we will have one of our experts look at them for you right away.
Sell antique jewelry New York with D&G Buyers, Inc.
Antique furniture is not the only thing we trade in here at D&G Buyers, Inc. either! We also buy and sell antique jewelry in New York too!
So if you have some old jewelry laying around in dusty boxes and cupboards – as so many of us do here in New York – and you feel like the time has come to free up some space, and not to mention make yourself a nice bundle of cash in the process, then we are here to help. We offer the best antique jewelry buy back prices anywhere in New York. Our team of jewelry experts is one of the best in the business, and really can spot that special piece of jewelry a mile off!
All of these reasons combined mean that we really are your one stop shop for antiques sales here in New York City. So if you need to free up some of the cash which is stored up in your antique furniture and jewelry, then come on down and pay us a visit today. We have free parking available for all customers, and you can even phone ahead on 800-965-0980 to let us know that you are on your way!