Find Buyers Of Gold And Silver in New York to Sell Silver NY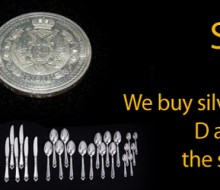 Finding the right people to buy your old and unwanted gold and silver is probably that hardest part of all. Most of us ordinary people do not know the world of gold and silver sales particularly well. All we know is that we have been bombarded with TV adverts over the last couple of years from companies who all offer you to buy your unwanted gold and silver back from you for the best prices. But the shear competitiveness and intensity of this industry can leave many of us alienated and confused when it comes to us being able to sell silver. We all know from the aggressive advertising campaigns that many of the large buyers have undertaken during recent times, that there are many ways in which we can go about selling our unwanted items. Finding out how to sell silver is the easy bit. It is the ability of knowing which company is best placed to buy it from you, which is the tricky bit.
How do you know that all of those companies out there across New York City who all claim to be able to buy that gold and silver back from you for the best prices, are actually going to be true to their word. There are many more people and businesses out there than you may think, but this is a particularly prominent problem in such a competitive industry as this one.
Well, your worries are now over. D&G Buyers, Inc. have a well established reputation as being one of the most reliable and trustworthy buyers of gold and silver in the whole of New York City.
D&G Buyers, Inc. – Buyers of gold and silver
We have been established for many years now, and it's certainly no surprise to us that a great deal of our customers continue to come back to us time and time again. We constantly strive to offer you the very best buy back prices we possibly can on all of your unwanted and unused gold and silver products.
It does not matter to us what shape, size or form your silver comes in. As long as it is silver, it has a value, and we would be more than happy to tell you exactly what that value is in one of our free, no obligation silver valuations.
One other thing which the silver dealers industry is keen for you not to know at the moment is that international silver prices are continuing to reach record highs. In times where the stocks and shares markets are so turbulent, investment companies and banks across the world instead turn to other forms of more reliable investments. One of the products which they seem to have singled out for mass investment opportunities is silver. This is great news for silver sellers like you because this increased demand means that silver is now able to command a much higher price on the market than it once did. All of this information leads to one simple fact, and that is that right now is the perfect time to sell off all of your old silver, and take advantage of a much needed cash boost that you will no doubt receive in these troubled economic times.
As we have already stated multiple times throughout our site, we truly do believe in doing things differently here at D&G Buyers, Inc. We believe that a straight forward and honest approach towards the buying and selling process is what makes us one of the most popular silver buyers in the whole of New York.
Sell Silver NY.